February 2014.  Robert Perrin Earns Specialist in Safety and Health through the OSHA Regional Training Center at UTA and was promoted to Safety Manager at Ron Perrin Water Technologies.
Professional Certification Programs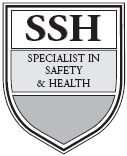 Specialist in Safety and Health (SSH)
Robert's focus was on Construction, Permit Required Confined Space and Fall protection.To complete this certification he also became a First Aid and CPR Instructor.
Check out his profile and connect to Robert on  Linked In.
Filed under: Diver Safety | Tagged: Robert Lee Perrin |